The Times, Monday, May 26, 1913 Marriages


GOLDEN WEDDING

FOX : WRIGHT - On the 26th May, 1863, at Osmaston Church,

Charles Douglas

, son of

Sir Charles Fox

, to

Mary

, daughter of

Francis Wright

, of Osmaston Manor, Derbyshire, and granddaughter of Sir Henry FitzHerbert, Bart.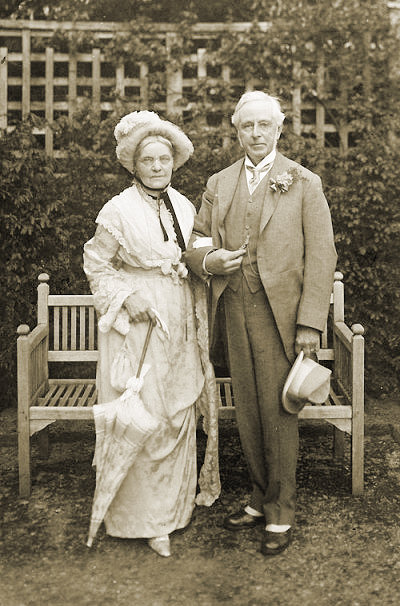 Sir Charles Douglas Fox with Mary
Golden Wedding Anniversary 1913






The Times, Monday, May 26, 1913


SIR DOUGLAS FOX

(Special to THE AFRICAN WORLD)
On Monday, May 26, at the Grange, Kippington, near Sevenoaks, Kent, Sir Douglas and Lady Fox, with their entire family gathered round them, celebrated the fiftieth Anniversary of their wedding day. The immediate family party consisted of the Rev. Edward H. Askwith, D.D., and Mrs. Askwith (daughter), of the Vicarage, Kirbky Lonsdale, Westmorland; Mr. F. Douglas Fox (son and partner) and Mrs. Fox, of 19, The Square, Kensington, ; the Rev. James S. Wimbush and Mrs. Wimbush (daughter), of the Rectory, Terrington, Yorks; Mr. E. B. FitzHerbert Wright and Mrs. Wright (daughter), of Henbury Manor, Wimborne, Dorset; and Miss Agnes Selina Fox (daughter) ; Sir Douglas Fox's two brothers, Sir Francis Fox (partner, knighted for his services in connection with the restoration of Winchester Cathedral and his long and brilliant professional career) and Mr Henry Fox, and his cousin Colonel Sir Malcolm Fox, K.C.B. (late of the Highland Black Watch Regiment, and for sometime head of the Army Gymnastic Department at Aldershot). The Rev. Carr Glynn Acworth, Sir Douglas' best man in 1863, proposed the bride and bridegroom's health at dinner, with thirty guests seated. The beautiful grounds of the Grange were resplendent with flowers, shrubs, and plants, and the almost tropical sunshine made the day a very enjoyable one. Many choice and valuable presents were received, and during the day Sir Douglas was the recipient of a large number of letters and telegrams of congratulation from friends at home and abroad.