Death
| | |
| --- | --- |
| Ida (Büttner) Haag | Died 27 Dec 1911, Age 79, at Rother, Thurm, Oberwesel-am-Rhein, Germany |
The Times, Friday, Jan 05, 1912 DEATHS

HAAG - On 27th December 1911, at Rother, Thurm, Oberwesel-am-Rhein, Germany, Ida the beloved wife of Carl Haag, Esq., R.W.S., and only daughter of General Büttner, Stadt Commandant, Luneburg, Hanover, aged 79.

Rother, Thurm, Oberwesel-am-Rhein, Germany




Rother, Thurm, Oberwesel-am-Rhein, Germany
Death
| | |
| --- | --- |
| Carl Johann Haag | Died 17 Jan 1915, Age 94, at Rother, Thurm, Oberwesel-am-Rhein, Germany |

The Times, Wednesday, Jan 20, 1915 OBITUARIES
DEATH OF MR. CARL HAAG


---

A VICTORIAN COURT PAINTER


The death occurred on Sunday last of the veteran water-colour painter Mr. Carl Haag, at his residence, Rother Thurm, Oberwesel-am-Rhine. Mr. Haag, who held the position of Court Painter (Hofmaler) to the Duke of Saxe-Coburg and Gotha, was in his 95th year. He was born in Bavaria, and was educated at the Academies of Nürnberg and Munich. After establishing a local reputation as an illustrator and portrait painter, he settled in England in 1847, gave up painting in oils and devoted himself to water-colour drawing, entering himself as a student at the Royal Academy.
He traveled extensively, and it was on one of his painting expeditions in Tirol in 1852 that he was found sketching by the Prince of Leiningen and the

Duke of Saxe-Coburg and Gotha, who were attracted by his work and gave him important commissions. In 1853 he was elected a full member of the Royal Water Colour Society, and a picture which he had painted for the Prince of Leiningen, Queen Victoria's half-brother, secured for him an invitation to Balmoral, where he painted, by command, two water-colours, "The Royal Family ascending Loch-na-gar" and "Evening at Balmoral Castle. The Stags brought Home," which were given by the Queen and Prince Albert as Christmas presents to each other.
Mr. Haag was deeply interested in antiquities, and restored the medieval Red Tower at Oberwesel-am-Rhine. On his arrival in England he became naturalized, and when he was married in 1866 to Ida, only daughter of General Buethner, he settled in Hampstead, where he built himself a large studio. It is interesting to note that he was an early member of the Artists Rifle Corps.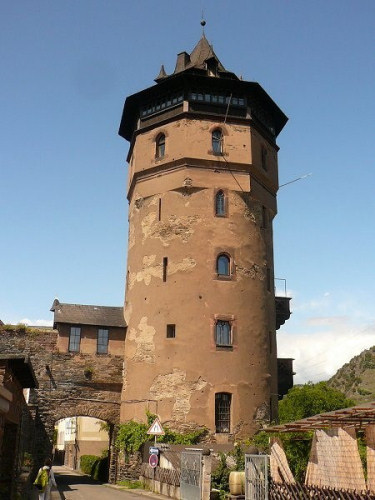 Rother, Thurm, Oberwesel-am-Rhein, Germany